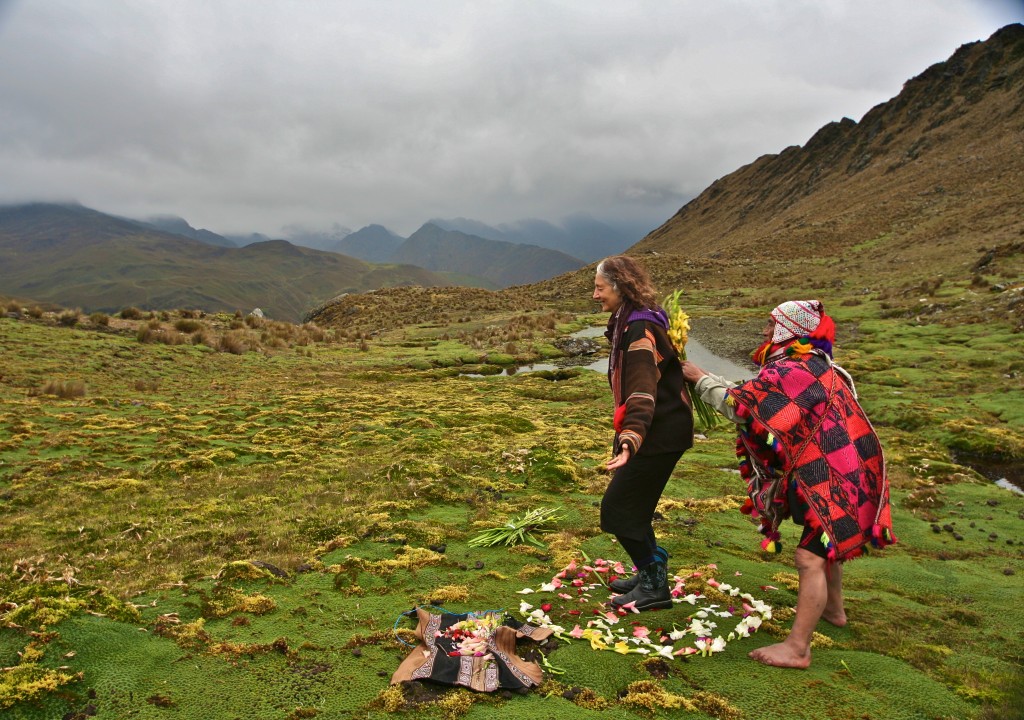 Entering into and participating with the living energies of mystical Peru offers us limitless opportunities to release our hucha, (heavy energy) and live more fully in our unique sami, (refined energy). As we take in the power of sacred sites, participate in ancient ceremonies, receive karpays, (energy transmissions) from Q'ero paqos and meet powerful apus, (spirits of the mountains) we change, and become enhanced aspects of ourselves.  Then, in the spirit of ayni, (reciprocity) we freely share our love and newly gained wisdom with family, friends – and maybe even the world.
 Join Annie Fuller, Spiritual Healer/Teacher
For a Life-Changing Experience of Immersion
Within the Living Energies of Peru
 Trip Itinerary (subject to change) 12 days and 12 nights
August 11 – Travel to Lima from the US.
Day 1 – August 12 – Everyone arrives in Lima by early am, and flies together to Cusco where a van awaits to take you Ollantaytambo, a living Inca city, in the Sacred Valley.
Day 2 – August 13 – Rest. Acclimate. Explore. Later in the day, we open a Ceremony for our trip.
Day 3 – August 14 – This is a ceremonial day being in and working with the energies of the Ollantaytambo ruins.
Day 4 – August 15 – Q'ero elder, Dona Julianna, comes down from the mountains to facilitate a Nusta ceremony and initiation for us. In the Andean cosmo-vision, Nustas are manifestations and holders of the Sacred and Divine Feminine.
Day 5 – August 16 – We ride the Vistadome train to Aguas Calientes and meet Phutu Cusi, the only female mountain at Machu Picchu.
Day 6 – August 17 – All day in the energies of the ruins of Machu Picchu.
Day 7 – August 18 – A day of the caves or the mountain at Machu Picchu.
Day 8 – August 19 –We say good-by to Phutu Cusi and take the Vistadome train back to Ollantaytambo. Rest. Shop. Explore.
Day 9 – August 20 – Pilgrimage to Apu Veronica, Keeper of the Black Light, with Q'ero Elder Don Nasario, where we create a despacho and receive karpays.
Day 10 – August 21 – Visit Moray and the salt mines at Salineras on the way to Pisac.
Day 11 – August 22 – Explore and work with the refined energies of the Pisac ruins.
Day 12 – August 23 – A day of wonderful shopping at the famous Pisac market. In the evening, we close our Ceremony.
August 24 – Individual plans – Travel home? Further travel?
Ayni: $3400 This is a SPECIAL RATE ($350 discount!) because I'll already be in Peru.
Included in the fee: 
Transportation within Peru.
One domestic Lima/Cusco flight.
Hotels, double occupancy, for 12 nights.
All meals – the food is abundant and fantastic!
Entrance Fees. Ceremonies.
Generous gratuities to special helpers.
My leadership, experience and teachings.
Group meetings. Individual check-ins.
Not Included:  
Your international flight to and from Lima.
One internal flight from Cusco to Lima (or wherever you might travel to after the group trip is complete)
Water. Alcohol (not recommended.) Personal gifts.
Travel insurance (required).
If you need a single room, please speak with me; this will necessitate an extra fee.
Registration:   
A non-refundable deposit of $500 is due no later than June15. ASAP is preferable, as we're going in high travel season, and tickets for many activities and hotels are already booked!!!
The balance ($3000) is due by July 31. Payment plans are available.
 This journey is a wonderful opportunity to share a life-enhancing experience with friends and family members. It's the last one I'll offer for a while. Our group size will be small – not less than 4 or more than 8 participants, plus myself.
I'm happy to provide references and referrals.
Commit NOW. The trip is filling. You'll never regret it!!
 For more information: