You are invited to our second Community Shamanic Healing Ceremony. Almost two dozen people joined us last month, and everyone was served. This month our ceremony takes place within the window of thinning veils – Halloween and The Day of the Dead. We expect a large turnout, so don't be late!
Are you feeling the chaos within our global community?
Are you called to deepen your metaphysical connections?
Are you seeking an empowering spiritual path?
Do you have something you'd like to release?
Is there a loved one you want to pray for?
Do you need healing?
With drums, rattles, flutes, open hearts, prayers, and collective intent we create and birth a sacred ceremony. Senses heighten as the reality of this "middle world" shifts and refined energies and helpers of the Light become accessible. Unified and palpably interconnected with the web of Life, we lovingly assist one another's healing.
Healing within the context of community is the original shamanic way.
Together, we create a space for miracles.
Location: Living Free Healing Center – 1C Williamsburg Way, Chico
The first Wednesday of every month. No pre-registration necessary.

October 4,          November 1,          December 6.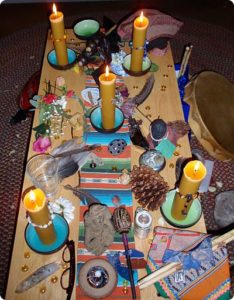 Time: 6:45pm -­ 9:15pm.
Ayni (reciprocity): $10-­$20
Bring: a low chair or pillow and musical instruments.
Tell your friends and family to come!

EVERYONE IS WELCOME, FROM UNBORN ONES TO ELDERS.
Led by:
Michele Friedman of Living Free Healing Center. Body-worker, Reiki Master, and Spiritual Healer since 2004, Michele believes everyone deserves compassionate support through Life transitions. Chico has been her home for over 28 years. micheleloveschico@gmail.com
Annie Fuller of Fullcircle Spiritual Healing. As an International Spiritual Healer/Teacher, I've been creating Healing Ceremonies for children, adults, couples, families, and communities for over 33 years. My healing practice is in Paradise. I also offer diverse workshops on shamanism, spiritual healing, and Andean mysticism.