"One is never afraid of the unknown. One is afraid of the known coming to an end."  Jiddu Krishnamurti

Everything is Energy.

The Human Soul is a bubble of energy that surrounds us. It's a container of sorts, made up of refined and heavy energies.  These reflect and mirror from the outermost layers to the most dense, the body, and affect our physical, emotional, and mental well-being. We each have a personal, individuated soul and are a part of the collective human soul.
Illness and Suffering Manifest as Heavy Energy. 
During a Healing Ceremony, heavy energy is released and transformed. Burdens are freed. Space is created. People feel lighter, healthier, more whole and awake.
"When I was in Mexico there was a tragic bus accident. Months later I met a mother and child who were crying every day and still having bad dreams. The priest and local shaman were unable to help them. In one session with Annie, they were healed. The next day people didn't even recognize them; they were glowing." S
The Foundation of Spiritual Healing is Faith and Trust in the Divine.
We can address everything. This includes, but is not limited to: intensive physical illness, emotional struggles, chronic pain, unresolved fear, depression, and post-traumatic stress. The experience of feeling lost or not fully embodied. I offer perspective and overview about life changes and stressful situations. Is one of your children suffering? Let's do a healing. Are you preparing for death? Are you pregnant? Spiritual Healing serves all Human experiences.
Hands-on Healing, Shamanism, Soul Retrieval, Psychopomp, House Clearing
Spiritual Healing and Counseling for Individuals, Couples, and Families
In Person or Distant Healing for People of All Ages

Spiritual Healing Creates a Space for Miracles.
A woman with a curved spine for many years stepped off the healing table and walked away with a straight back. A man who hadn't felt his legs most of his life said, "It feels good when I tickle my legs." MRI's report shrunken tumors. Diseased lung tissue healed. A man with medically unresolved pain almost two years after a surgery became pain-free just three days after his healing. People feel themselves, sometimes for the first time in their lives.
My uniquely expressed medicine is a compilation of Life experiences. As your healer, my task is to be awake, remain centered within my heart, listen on all levels, and most of all, stay grounded in Faith and Trust. Divine emissaries attend to the rest.
Enjoy my blog: What Happens at a Healing Ceremony?
Enjoy my blog  – Soul Retrieval Integration.
"I've worked with Annie Fuller since 2001, and her expertise as a spiritual healer continuously amazes me. Many of my patients have left her table with miraculous physical healings and spiritual growth. Working with her is one of the highlights of my practice and counting her as a friend greatly enhances my life." S. Naturopathic MD.

Distant Healing
Healing occurs outside of time and space. We can have a ceremony for you or a loved one no matter where you live. Everything is possible.
Enjoy my blog – Distant Healing.
"Annie is a loving and powerful spiritual healer.  She has done multiple healings for my family and myself, and her work radically improved our capacity to receive and give love, enjoy life and offer our gifts.  Words cannot express the gratitude I have." G
A Spiritual Healer Works Within the Landscape of the Soul.
She believes in Unity and knows we are never alone, for everything and everyone are part of the living energy surrounding us. We are the mountains, trees, ocean, stars…… Her partnership with evolved beings from other realms allows them to work with and through her on behalf of her clients. She implicitly trusts her experiences.
A Spiritual Healer walks a two-footed walk: one foot is the Personal and the other is the Healer. As each foot moves forward, everything she experiences within her personal life enhances her gifts as a healer, and  all integrated knowledge and awareness is offered to clients and students.
The path of a Spiritual Healer affects both the Individual and Collective Human Soul.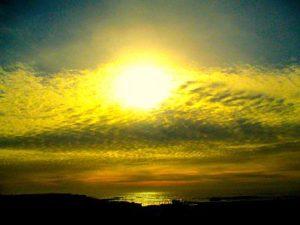 Every Healing Ceremony is an Extraordinary Unfolding.
Divine Creativity is Limitless and Always Supports Our Wholeness.