Healing Quest was born the Summer of 2000.
Since then, every year during the August full moon, a group of up to 25 people from around the country gathers for 8 days at Earthteach Forest Park just outside Ashland, Oregon. Agnes Baker Pilgrim, one of the 13 Original Grandmothers, identified this pristine land as sacred, indigenous vision quest land. Some of us are called to be mountain questers and others, camp questers.
This ceremony serves the Individual, as well as the collective, Human Soul. Our theme is Unity, and our template is Shamanic Rebirth. Supported by abundant natural resources, we create a village that includes a sweat lodge, tepee, kitchen, shower (with hot and cold running water!) and healing clinic.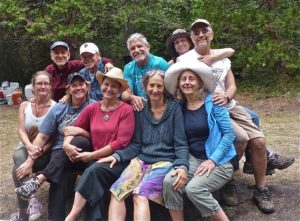 Shamanic Rebirth
This is an opportunity to participate in a conscious death and reincarnation within our present lifetime.
Every healing quester receives assistance in naming a theme/way of life they've been living that no longer serves them. Self-doubt, guilt, judgment, self-hatred and procrastination are some examples. Participation in the ancient Khuya Ceremony releases that life from their soulscape, and a form of death occurs.
"I assist Annie at Healing Quest every year. Her integrity and clarity of vision are both inspirational and educational. Annie's gift of naming the un-named truth for others is positively impacting the whole planet. I am eternally grateful for her healings, teachings, and friendship!" Chris, Business Owner
Mountain Questers
At daybreak, "dead" mountain questers, accompanied by their Death Guardians, are brought through the Death Gateway and into the Spirit Realm. Each makes a 30 foot circular home for themselves and enters into a life review for 3 days and nights. Illuminated by the full moon, the mountain quester remains awake the final night and prays for visions of a new life. On the 4th day, Death Guardians become Birth Guardians and escort their mountain quester from the Spirit Realm, through the Birth Gateway, and into the womb of our tepee where their new life is conceived.
"I can count on Healing Quest once a year, to return me to myself. I am reminded that what is real is not "ordinary" or "normal" reality; what is real is the extraordinarily expanded reality I experience at Quest. Being in a community that shares this is the gift of life. Whenever anyone asks me about Quest, one thing I always say is – if you can possibly imagine being part of a community of unconditional love for 8 days – that's Quest. No matter how I am, I am absolutely accepted and valued." Jean, Artist/Healer
Camp Questers
These questers remain in camp. They become Guardians, eat for and ceremonially connect with their counterparts, receive healings, and participate in their own Shamanic Rebirths. Camp questers say their experiences, although much different than solo questing on the mountain, bring about an equal, and sometimes greater depth of awakening, healing, and change.

Resurrection of Self
This 9 month, post-Quest integration phase is perhaps the most important part of Shamanic Rebirth. It's when we literally complete the old life and consciously begin living the new. There are always things to attend to.
Healing Quest

is Alive
Whether one is in the Spirit Realm, participating in life review, the tepee, drumming and rattling on behalf of someone, the healing clinic, the kitchen, cooking or eating fabulous organic food, or anywhere on the property…. the experience of our interconnection with one another, the land and the universe is palpable.
Would you like more joy in your life? Are you living in your personal power? Does your heart or mind lead you? Can you imagine breaking free and living your truth and knowings? Are you ready to make a commitment to yourself that will change and enhance your entire life, as well as the lives of your loved ones?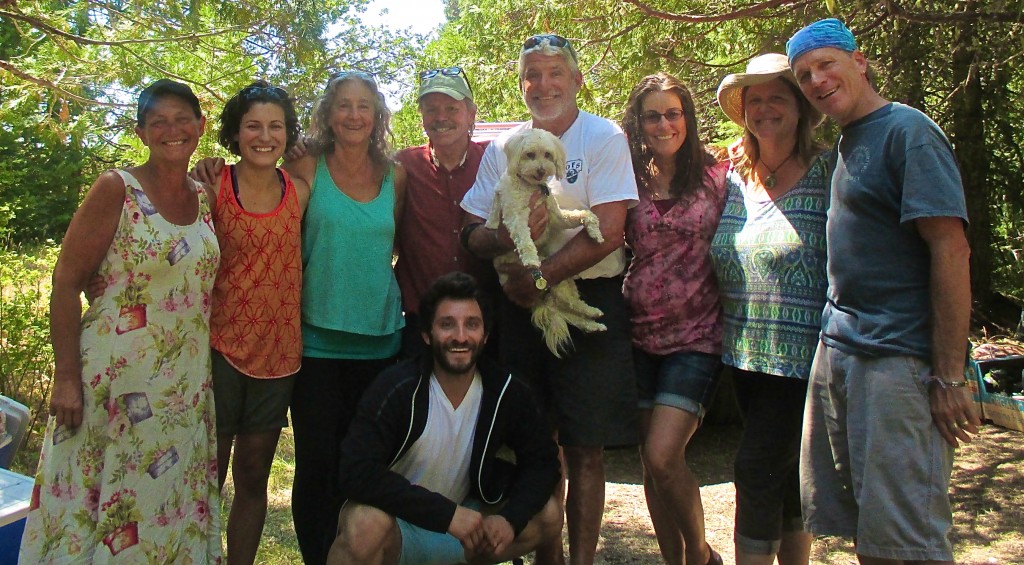 2016 Healing Quest Family
Lisa, Angelina, Annie, Rich, Chris, Skipper, Christina, Krissy, Scott and Michael.
 "Quest is an experience I look forward to with more openness and joy than anything else I do. Every year my true essence is lifted to a higher and clearer plane of consciousness beyond which I had previously experienced. Our leader, Annie, is a gift to this space and time. Her grace and humility go beyond the expected human experience. She has held the space for me and so many others to experience the gifts of open heart and the allowance of new knowings of truth and purpose. If the template of death and rebirth calls to you, or there are parts of your life that aren't serving you, Quest is a rare opportunity for movement." Rich, Contractor